The Rodrigue Families Association, following many other family associations, has considered that the Rodrigue should have their own Coat of Arms. The Coat of Arms will represent a sign of recognition among the Rodrigue as well as a unique means of identification.
We have contacted a heraldist, and we have given him all the relevant information concerning the origin and the history of the Rodrigue. Based on that information, a tentative Coat of Arms has been submitted to the Administrative Council of the Association, which has accepted it. Then, the project has been sent to an artist who has realized the final output.
Here are this Coat of Arms, along with a description thereof: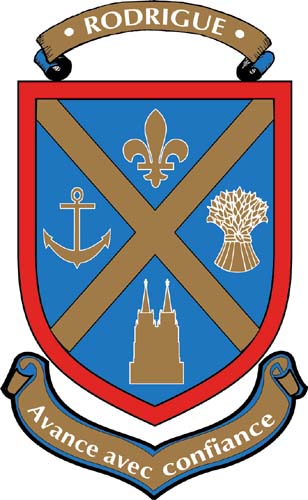 ~ DESCRIPTION ~
SHIELD

Of azure with an edge of gules and a cross of gold, quartered at the head with a fleur-de-lis, at the right with an anchor, at the left with a sheaf, and at the point with a steeple, all of gold.


SUMMIT

Of silver on a listel of gold, the surname "RODRIGUE".


MOTTO

Of silver on a listel of gold, the motto «Avance avec confiance».
~ Meaning ~
The edge of gules (red) comes from the Coat of Arms of Portugal. The azure (blue) color can be found in the Coat of Arms of Spain. The fleur-de-lis brings to mind New France, new Homeland of the Rodrigue. The anchor is for the occupation of sailor. The sheaf is for agriculture, the first occupation of the descendants. The steeple honors their attachment to the Church and to our ancestors' faith. The cross, of St. Andrew's style, determines four chevrons (triangles) for the ancestors and for the hopes and realizations of their descendants. The gold enamel means kindness, openness, generosity. The red color is a symbol of fieriness, keenness and constant labour. The blue color is for the sea, the sky and the water, for tranquillity and body and soul's rest.
---
Promotional goods
Give yourself or your relatives a gift : get one or more of the promotional goods with the logo of the Rodrigue families.
| | |
| --- | --- |
| Mug | 10,00 $ |
| Key holder | 5,00 $ |
| Pin | 3,50 $ |
| Coat of arms with description in French (laminated) | 20,00 $ |
| Coat of arms (cardboard) | 5,00 $ |
| Coat of arms (plastic-coated) | 10,00 $ |
| Le Rodrigues/z Newsletter | 4,00 $ |
To get these goods, please send your order with a cheque payable to the Association des familles Rodrigue to:
Louise Rodrigue
6818, rue des Sommeliers
Québec, QC, G3E 1A2
Canada


E-mail: LouiseRodrigue6@hotmail.com
Phone: (418) 847-1467
---
© Association des Familles Rodrigue, inc.